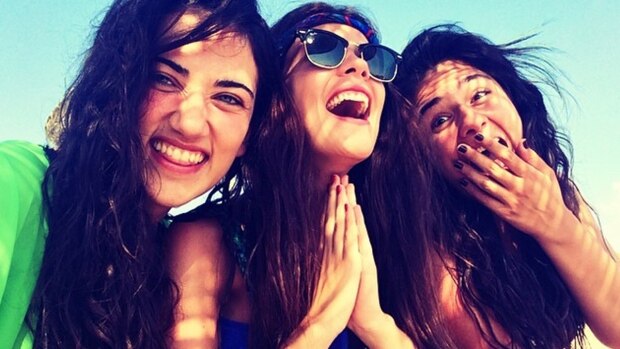 Have you ever heard of the saying that, "Women want men who will tell jokes; men want women who will laugh at theirs?" There is an article written by The Atlantic where it suggests that a man would opt to be with a woman who will be laughing at his jokes instead of making her own.
Perhaps the author of that article was misinformed because there are plenty of guys who adore funny women. Men who are confident and smart can appreciate someone who can make them laugh and laugh at their jokes.
When a woman is more inclined to be funny, it only increases the chemistry the couple may have. Many men find a woman who is willing to be silly, crack jokes, and let it all hang out incredibly sexy. For many guys, when they are with a woman who can make him laugh, they are in a happier relationship that lasts a long time.
One woman, Erin Judge, shared:
"I once met a man who made me laugh so much that I first had sex with him, then ate his head like a mantis," she explained. "That's when I started cracking jokes: after I absorbed his powers."
She added, "My husband used to laugh out of sheer terror, but now he seems to genuinely enjoy my jokes. I call it Schlockholm Syndrome."
Comedians Calvin Cole and , "Caitlin is one of the few people, guy or gal, that makes me genuinely laugh all the time. The fact that we have complementary biologies is an enormous bonus."
Caitlin added, "I feel my most attractive and confident when I make someone laugh. I've never been in a relationship or even attraCaitlin Puckett think that it is their shared sense of humor that keeps them together.  Calvin sayscted to someone who didn't think I was funny. The only way to end my undying love for Calvin is for him to stop laughing at me."
Men who are able to appreciate a funny woman are less likely to feel threatened by her. Instead, he is able to see her value and appreciate the stress relief that joking around and light-hearted banter can provide.
There is a need to dominate the core belief that men don't want to be with a funny woman, but this is a belief that is quickly falling to the wayside. Sure, there are many men who still believe they are funnier than women, but it doesn't necessarily its true.
Funny women don't want to waste their time on a man who cannot appreciate her and her comedy. Funny women aren't attracted to the narrow-minded stereotypes of masculinity. Women who embrace their sense of humor are opening themselves to a more enjoyable life, and they are better for it.
Can it be intimidating for a younger woman to break into the comedy world which is dominated by men? Yeah, of course. However, given the right opportunity, there are many men who are willing to step back and let her show off her intellectual "prowess" and charm the pants off of him.