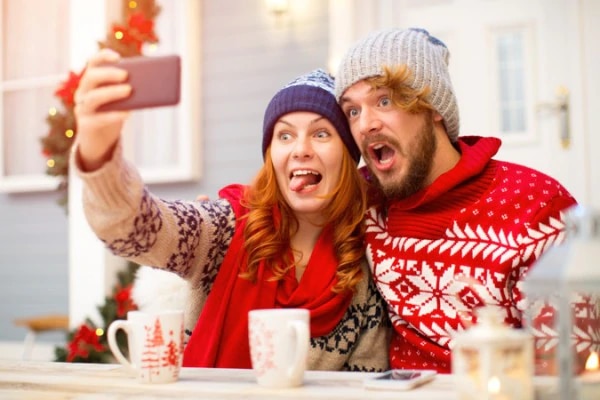 Why is it when it gets colder out, we feel the need to partner up so much more? With the holidays right around the corner, we begin searching for someone with whom we want to share our time with, cuddle with, and maybe even get closer to.
Why, for those who aren't interested in a relationship aren't immune to the need to keep warm with someone. During this time of giving, sometimes the best you can give someone is… Well.. Yourself.
Follow these 9 tried and true "hacks" so that you can ensure that your goodies will be given to the person whose been on the nice list for far too long.
A Blizzard
Unless you are in an area where it doesn't get cold enough for a blizzard, you can always anticipate a good blizzard to bring out everyone's desire to keep warm. After you make sure that your mate is warm, safe, and feels secure, you can offer them a snuggle under the blanket and watch a movie (if you've got electricity of course). Bring out a nice bottle of wine, uncork it, and let the emotions flow—and then some.
Mingle at the Holiday Party
Holiday parties are an excellent opportunity for singles to get together and chat up one another. You may not want get too close to people at the office party though because we all know how quickly gossip likes to circulate in the office. But, at another party feel free to mingle, flirt, and maybe even get a little toasty. You can wear your finest clothes, let your hair down, and maybe find someone to take home for a little extra holiday cheer.
Sabotage Secret Santa
Now, we aren't suggesting that you ruin secret Santa for everyone, but we are saying the you could find out who has the person that you have eyes for and bribe them to switch names with you. While everyone else is sticking to the set budget, you can lavish your secret Santa with gifts that they truly will enjoy.
Channel Moses
During the holidays, people tend to adhere to their religions pretty faithfully (no pun intended). So with that in mind, if the person you have a crush on is of a different religion than you, you could impress them by learning all that you can about their religious traditions for the holidays.
Tinder Your Area
Know we know that you're probably already using Tinder in your area, but now that it is the holidays you may travel to your home town or perhaps you've always been there and people are coming back. So, now is your chance to finally reconnect with that hottie that you had a crush on in high school. You should always keep your Tinder game on point by looking for possible matches outside of your area, but when you do get a match, go to your favorite haunt and relive those memories.
Mistletoe
Although it may be a bit cliché, but the mistletoe is a good holiday tradition to fall back on if you're running out of luck with other options. The tradition of using mistletoe has been in practice for ages and it would be strange if you refused a kiss from anyone who spots you under it. Embrace the tradition and pucker up!
The Holiday Schedule
Netflix is a godsend for the holidays. You can use the holiday line up to woo that date into the spirit. Just bring them home to your place, pop open a bottle of wine, a nicely cooked meal, and put on a put a classic Christmas movie.
Old Movie Marathon
There is something incredibly romantic about a classic black and white movie that modern movies just can't seem to recreate. One of the most iconic classic movies for the holidays is the 1946 classic, "It's a Wonderful Life" will bring your date closer to you and in your arms while you wipe away their tears. Hey, it's a tear jerker okay!?
Get in Touch with Your Inner Child
When the snow falls, it's a perfect opportunity to embrace your inner child and get out there and have some kid-like fun! Go sledding, build a snow man, make some snow angels. Then when you're both feeling cold to the core, go back inside and try and warm each other up by cuddling under the blankets, sipping on hot cocoa and relaxing by the fire.