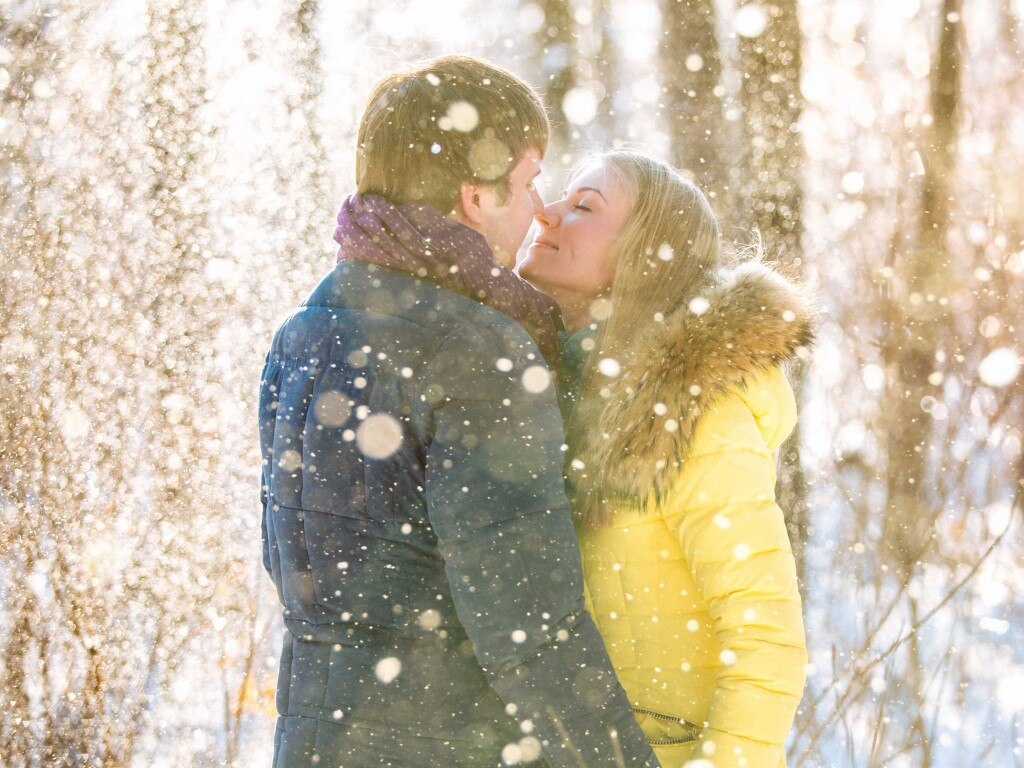 Imagine snuggling by an open fire with your love's arms wrapped around you tight. Or, imagine going on a romantic carriage ride through the city while the snow gently falls down around you. If you can imagine scenes like this and are single, perhaps you should take the necessary steps to get yourself out of singledom and try your hand at online dating.
We've compiled a list of five very good reasons why you may want to hunker down under a blanket, join an online dating site, and make those winter wonderland fantasies reality.
Reason 1. No more inhibitions… for the season.
During the holiday season, we experience this crazy phenomena where our inhibitions are lowered and we are more willing to put ourselves out there. We all know that one person in the office who is generally pretty low key, but at the Christmas party, their hair is down and they are the first person to steal a kiss from under the mistletoe and no one bats an eye. This is even carried to online dating because we are less inhibited  by what we say. It usually occurs in online communications because we feel freer to say the things we wouldn't normally say when face to face. Pair this with our inhibitions being lowered for Christmas…
Reason 2. Self-Handicapping is lowered significantly.
At one point or another, we are faced with a situation where we decide to hold back on progress because we are terrified of the possibility that things could fall through and we fail. This is what experts call "self-handicapping," and it is a defense mechanism we fall back on in order to protect our self-esteem should things not go the way we hope. We tend not give our all, especially when it comes to dating because we don't want to face the possibility of rejection. We blame the rejection on the other person not understanding you, rather than with yourself. Interestingly enough, when we step out of our everyday routine like we do around the holidays, we tend to feel better about ourselves and the amount of self-handicapping we do is decreased significantly.
Reason 3. We have more time.
Online dating takes time and effort to be successful, but it takes much less time and effort than conventional dating. Either way, you look at dating, it's an activity that we have to do if we want to fall in love with our ideal mate. One of the reasons why people tend to prefer online dating is because it is asynchronous, meaning that we can do it at our leisure. If our schedules are particularly busy for a few days, we can take a break from it and answer any messages that may have been received when it is a more convenient time. During the holidays, we experience more time off from work, thus allowing us to spend more time online looking for a date. This extra time that we have allows us the ability to create a perfect message, the best tag line, and upload pictures that are really flattering.
Reason 4. More people turn to online dating during the holidays.
Many online dating sites report that there is a large spike in membership between Thanksgiving and Valentine's day. This is the prime time that singles feel the desire to search for someone to spend some time with. With such a surge in memberships, your chances of finding a viable match increases significantly. But, with so many new members flooding the site, you may become a little overwhelmed because you now have so many more options, so in a way it is a double edge sword. If you can stick to your guns and not waiver on what you want in a partner, then this holiday season could be your last as a single person.
Reason 5. A time to reflect on your life.
As the year comes to an end, the holiday season is the time of year where many people evaluate their lives and how the events in the year changed their lives and make plans for the new year. Not only are we more likely to reflect on how life has treated us, but we also reflect on why we are single and what we can do to rectify that. This bout of self-reflection just may be what we need to get out there and find someone!